BRICKYARD PLANTATION, MOUNT PLEASANT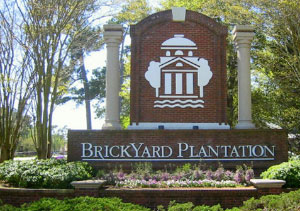 Mount Pleasant's Brickyard Plantation was built on the site of a working brick plantation and has evolved into a stunning community of neighborhoods. By the time construction began, only a few ruins remained of the old plantation, but, if you look carefully, you can still see traces of the past. An eight-acre lake marks the area where the material for bricks was dug out.
The visually impressive entrance to Brickyard Plantation hints at the community's good design and well laid-out development. Extensive landscaping only adds to the appeal certainly maintaining a visual quality that preserves real estate property value.
Residents enjoy amenities such as the clubhouse, tennis courts and pool but best of all is the boat launch and floating dock on Horlbeck Creek. And that little bit of history that lingers along the creek bank.
There are plenty of family-friendly amenities, such as a fitness center, basketball and tennis courts, an elegant clubhouse, basketball court and access to Horlbeck Creek. There also are two swimming pools, including a junior Olympic pool, and, on breezy, summer afternoons or cool mornings, the walking and jogging trails are perfect.