MARAIS AT SEASIDE FARMS, MOUNT PLEASANT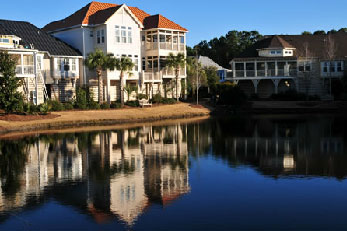 Marais at Seaside Farms is located in beautiful Mt. Pleasant, S.C., just minutes from Isle of Palms. The convenient proximity of this intriguing marsh community offers residents an "atypical architectural design." Marais at Seaside Farms offers a relaxing lifestyle that is unique to residents and the community of Mt. Pleasant.
Available upgrades include decks, screened porches, fireplaces, built-in cabinets, granite counter tops, and sunrooms. A grand pool and bathhouse are available for exclusive use of Marais' owners. One of the many intriguing features of the Marais at Seaside Farms development is that each unit has its own personality and charm.
The area is tastefully landscaped and residents are not responsible for ground maintenance. For many residents, this is a critical factor since taking care of a lawn and gardening can be tedious tasks. Marais residents are most pleased with their life style in Marais at Seaside Farms.